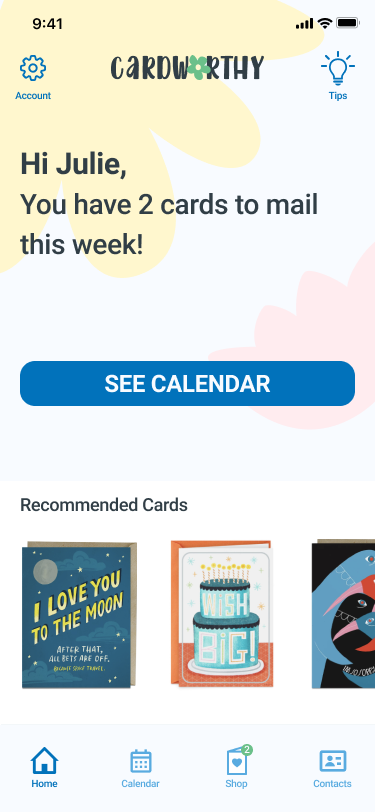 All occasions are CardWorthy!
Even in the digital age, handwritten, through-the-mail greeting cards are alive! Everyone appreciates getting a handwritten note, birthday card or other special occasion card. The problem is organization and remembering! It's easy to forget to go pick out a card and send it in time for friends and family birthdays or other special occasions. And even harder to remember to buy stamps!
Project Summary
CardWorthy is an app that helps you keep in touch with friends and family. It makes sure you have all of the supplies and information you need to send handwritten greeting cards to the people you love. It reminds you when to purchase and send greeting cards and allows you to purchase a batch of cards on a monthly or quarterly basis. Whether you have trouble remembering birthdays, never have stamps on hand, or don't know what to write, CardWorthy has you covered.
Project Duration: 8 weeks
My Role: UX Research, UX Design, UI Design
Tools: Figma, Miro, Adobe Illustrator & Photoshop
Problem
Most people keep track of birthdays and other occasions in a calendar, but that doesn't always help them remember to get a card in the mail! There are multiple steps to sending a greeting card; purchase the card and stamps, write a note, find the address and put it in the mail. It's hard to remember to do it all and send the card on time.
Solution
With CardWorthy, everything related to sending greeting cards is in one place. You can order a batch of cards (pre-stamped!), get reminders about when to put them in the mail, keep addresses handy and get tips on what to write inside.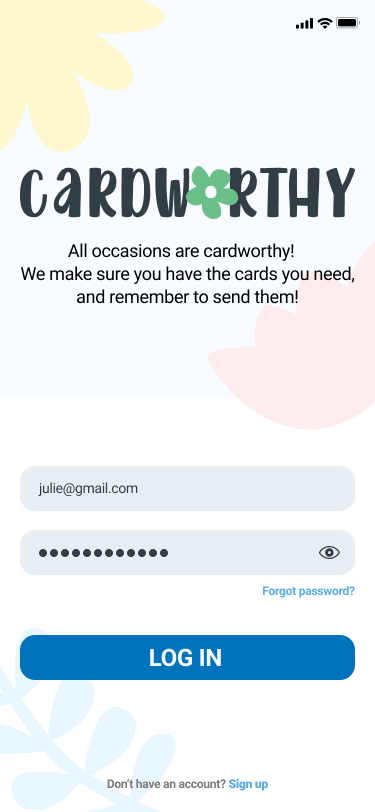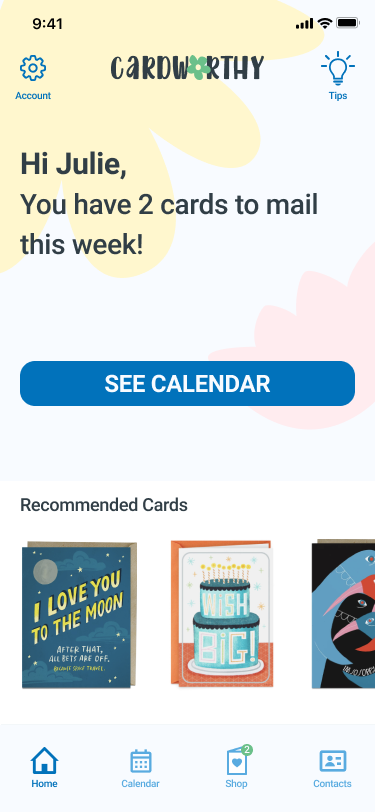 Secondary Research
I focused my secondary research on comparing handwritten vs typed notes and also the statistics around who sends greeting cards and the state of the greeting card industry.
Women purchase 80% of greeting cards with

Baby Boomers purchasing the most, but Millenials spend the most money on greeting cards.

To the recipient, in particular, a handwritten note or card has a far greater emotional impact - making them feel more special and cared about - than the same message delivered in an email or text.

Birthday cards are the best-selling type of card.
Primary Research
To learn how users remember to send greeting cards, or why they forget or procrastinate, I used screener surveys to recruit participants. After interviewing users and organizing what I found, I was able to synthesize my findings into affinity groups, empathy maps, and personas.
Surveys
When creating the screener survey the main objective was to find two types of participants: Those who want to send greeting cards, but have difficulty actually sending them and participants who love to send cards and have some good ideas on keeping everything organized. I also wanted to get a sample of Millenials, Gen X and Baby Boomers.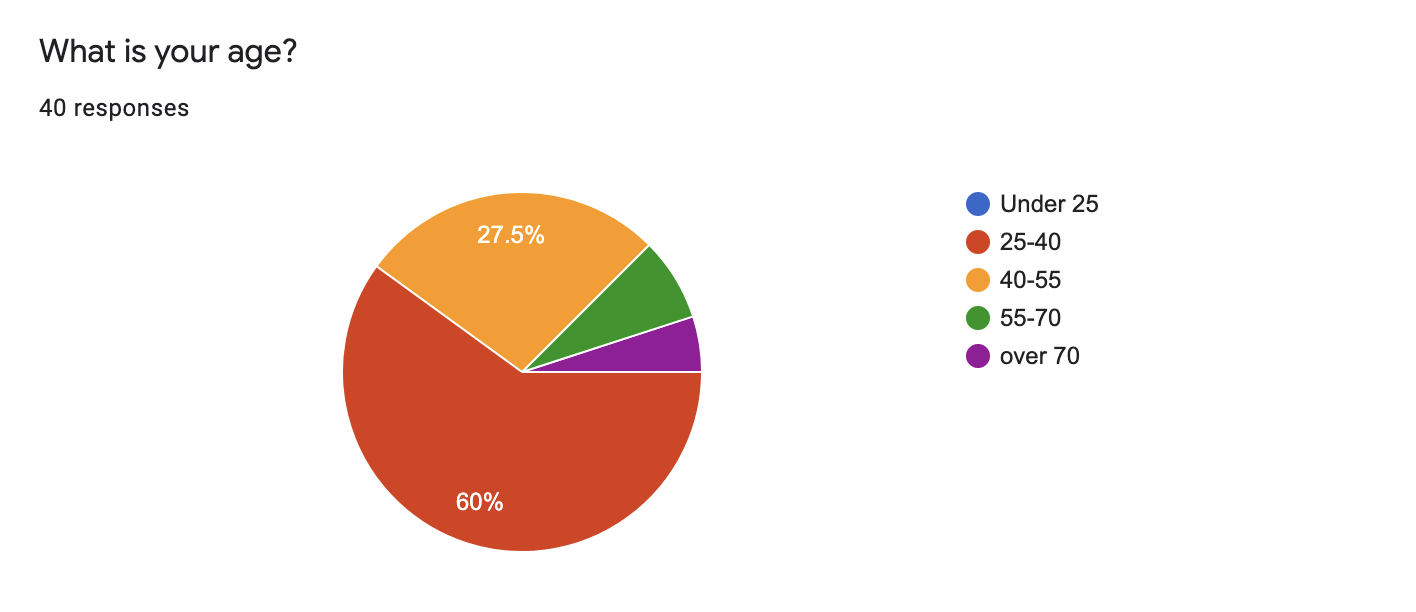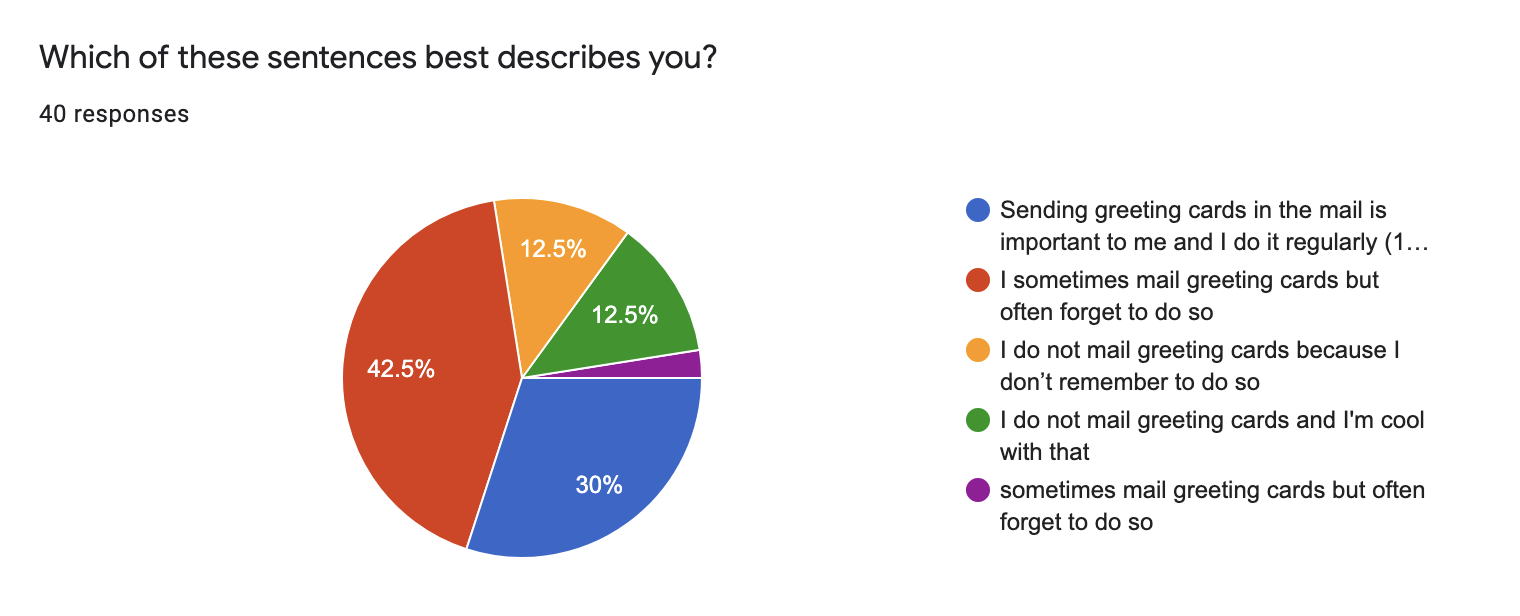 Interviews
I conducted 7 user interviews in order to get a better understanding of users current greeting card systems and learn habits and behaviors.
Objective: Identify potential users and find solutions for remembering to purchase and sending cards. Identify pain points in the process of purchasing and mailing greeting cards.
Interview Questions
Tell me a little bit about your habits and feelings about mailing greeting cards.

How often do you send a card in the mail?

Describe the occasions for which you send cards.

Do you have any tips or tricks for remembering to send cards?

How do you keep track of addresses?

Describe your process of purchasing cards

Are there any cards you keep on hand?

Are there specific parts of the process you enjoy more than others?

How much do you usually write on the inside? How do you feel about that part of the process?

Are there any phone apps or technology that you use in your process?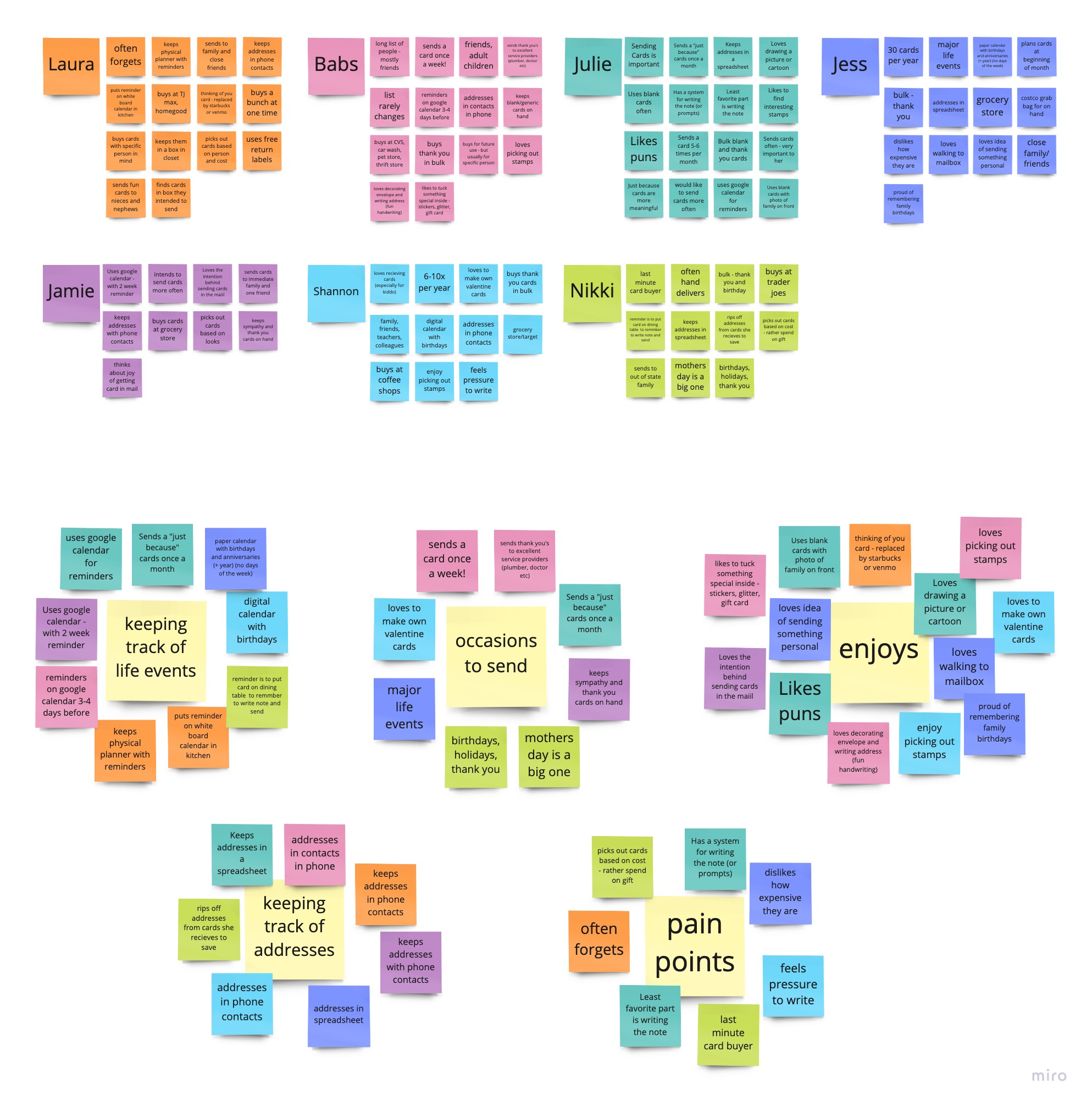 Affinity Mapping
With my interviews I was able to narrow it down to five main categories.
keeping track of events,

keeping track of addresses,

occasions to send,

what parts they enjoy

pain points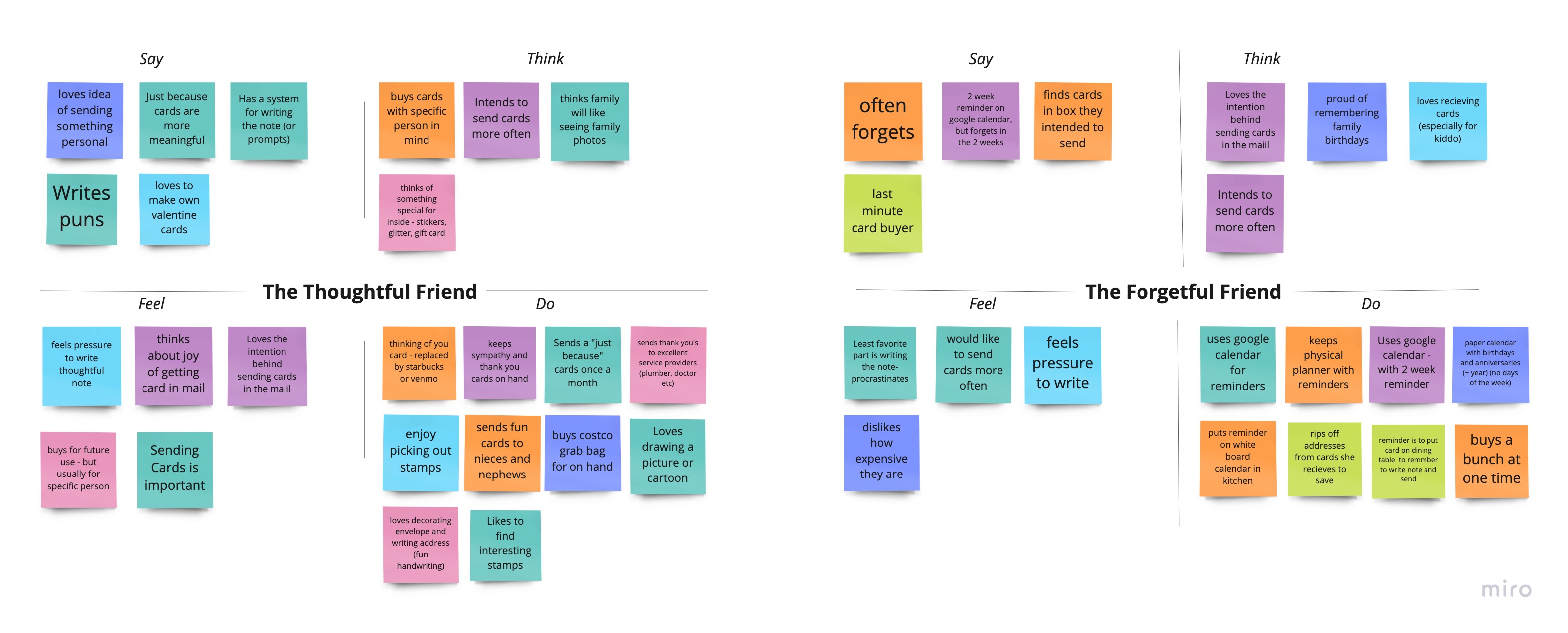 Empathy Maps
Affinity maps were then categorized into two empathy maps, the thoughtful and forgetful friends.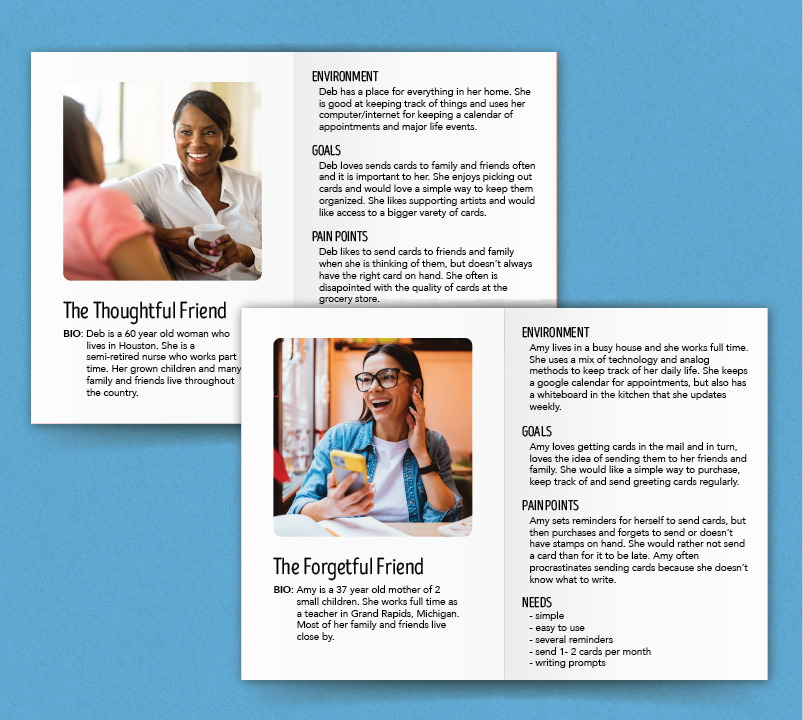 Personas
The Empathy Maps helped define my Personas, by identifying each user's demographics, habits, feelings, satisfaction and pain points. I kept these personas in mind as I developed a solution.
Thoughtful Friend
She is semi-retired and has family and friends all over the country. She's good at keeping track of things and has a place for everything. She loves sending cards, and it's important to her.
Forgetful Friend
She works full-time and has a busy house with 2 young children. She has lots of systems for keeping track of things, but it always seems like she forgets things anyway. She loves getting and sending cards, but often forgets or doesn't send because she thinks of it too late.
HMW's
The final piece of my research was to synthesize this data, with How Might We (HMW) statements to clearly communicate the most important problems users want solved.
How might we help people remember to buy, and send greeting cards for all occasions?

How might we keep track of major life events and holidays?

How might we make sure people have cards and stamps on hand when they need them?

How might we relieve the stress of figuring out what to write in a card?
User Stories
Before I could get started with designing I had to identify the most important functions this app needs. User stories were categorized by priority, the highest being the most crucial functions, this helped me understand the necessary features and elements that needed to be implemented for a smooth experience.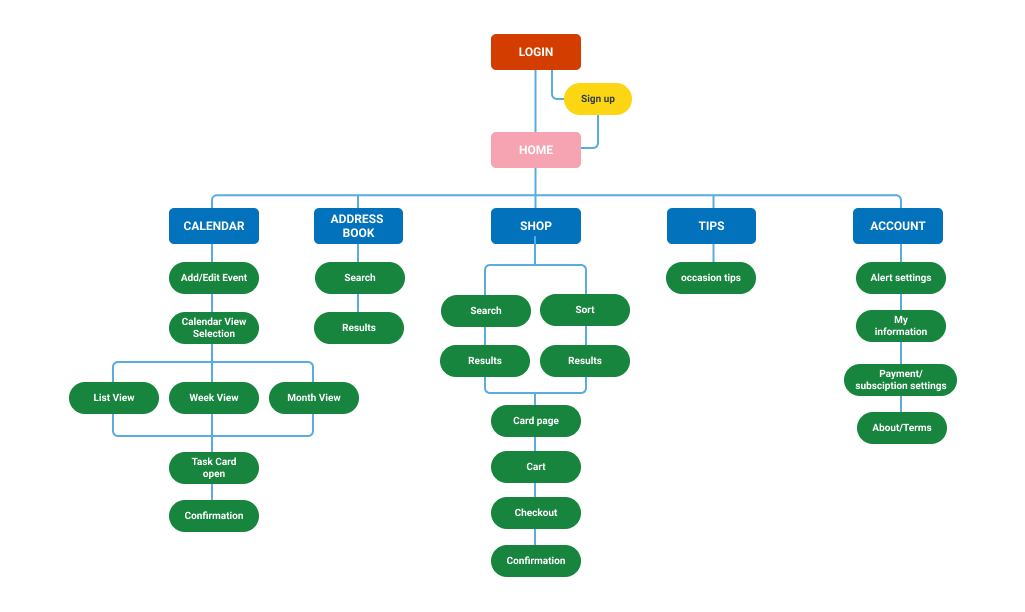 Site Map
Now that I had a better idea of what my users needed I created the sitemap with the intent of simplicity. I wanted it to be easy for people to find their tasks, reminders and information they need when they are ready to put a card in the mail.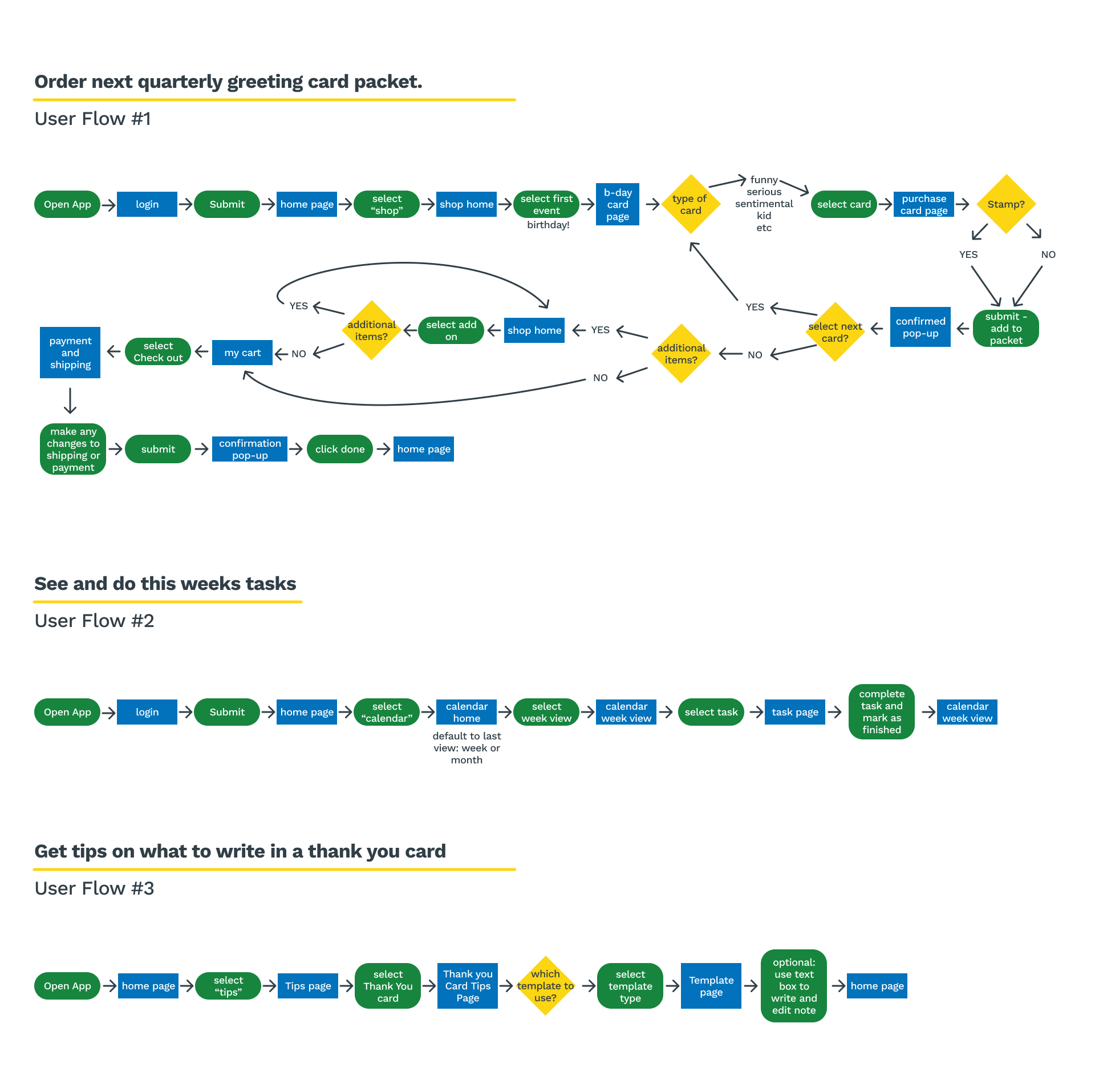 User Flows
My user flows helped me understand how I wanted each screen to be laid out in order for users to complete their tasks. From my MVP's I chose three routes that were essential.
Order a greeting card

See and complete this weeks tasks

Get tips on what to write in a thank you card
Sketching
Sketching helped me bring those user flows to life, and helped me figure out how much information needed to be on each page and how to organize it.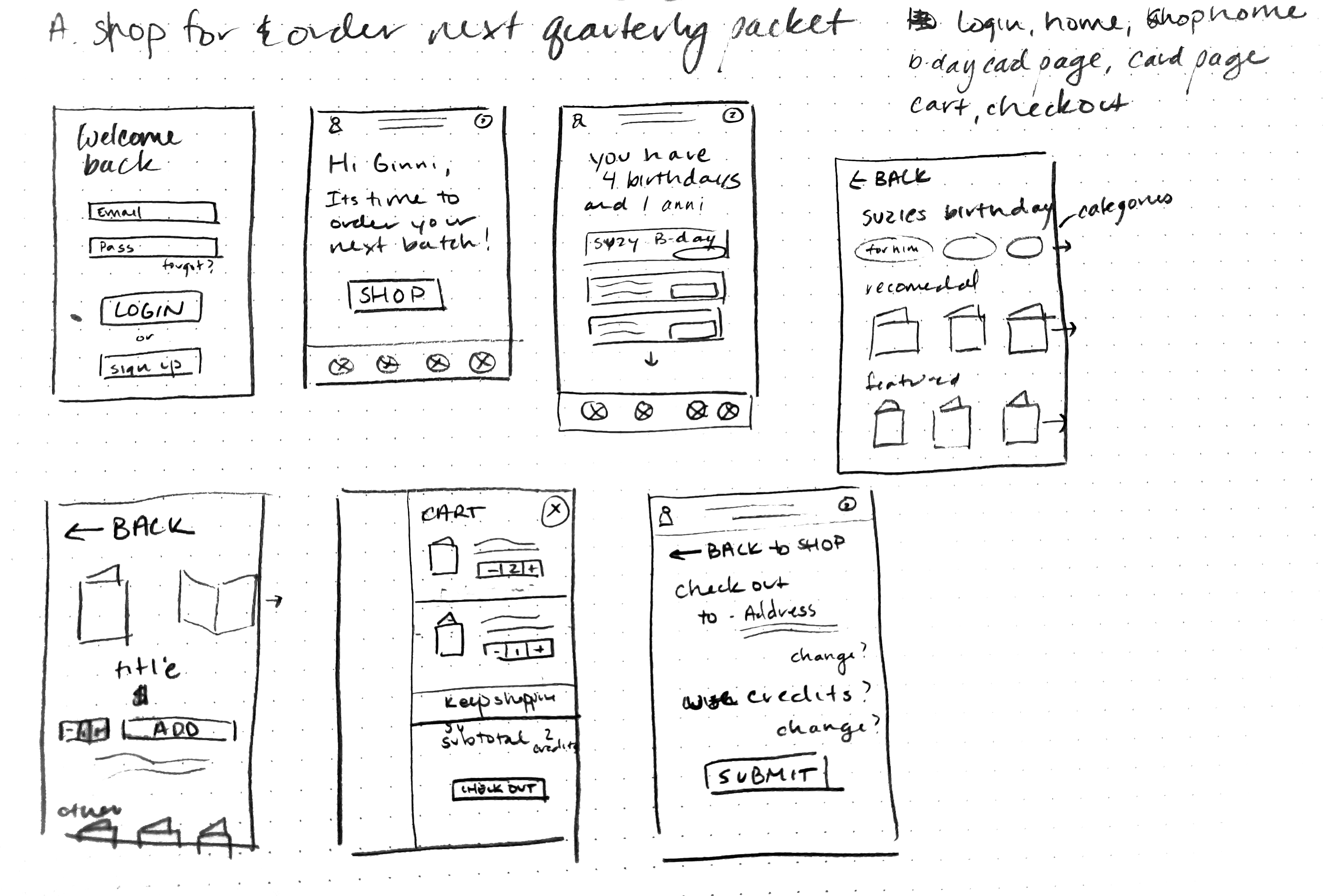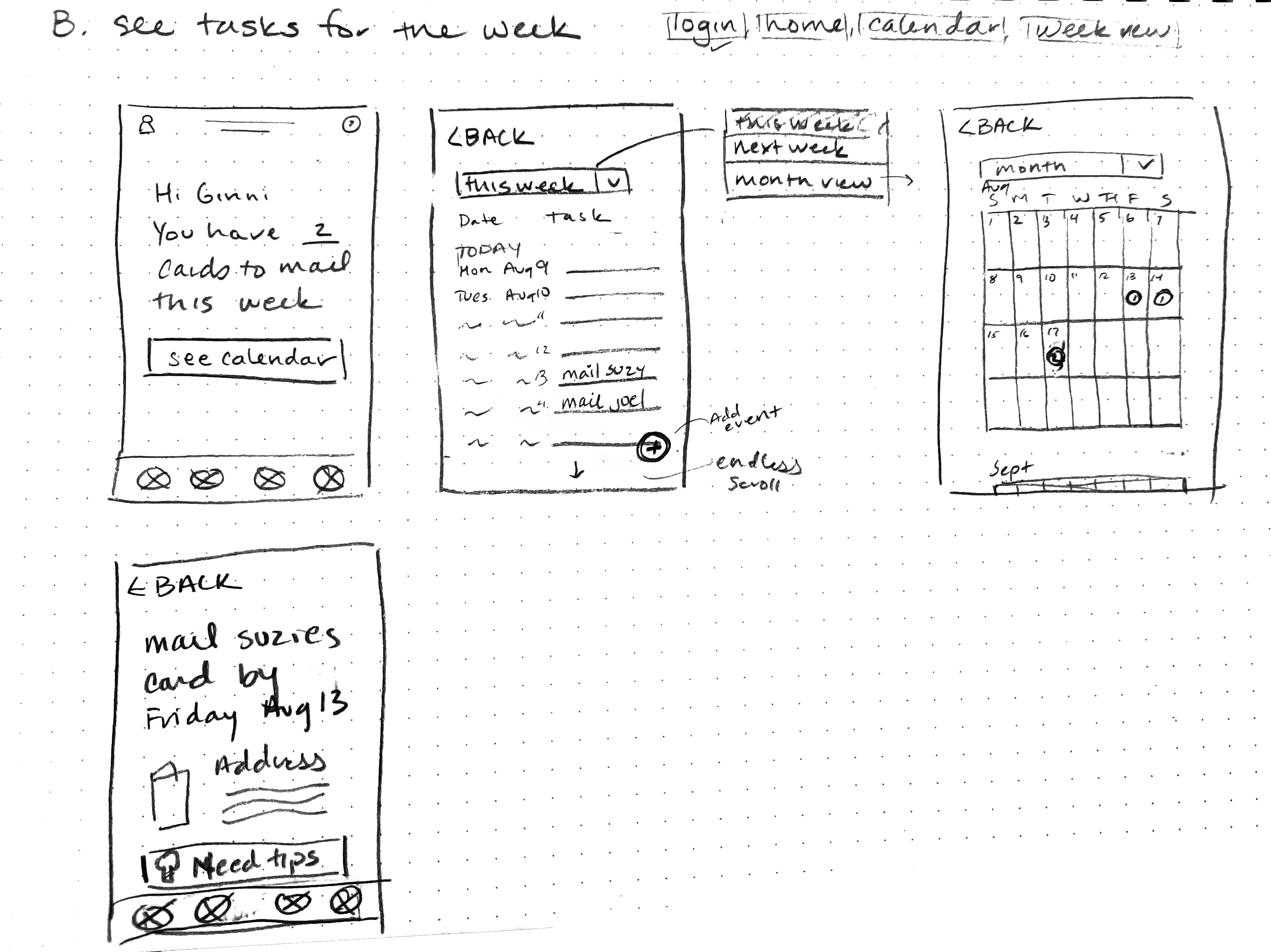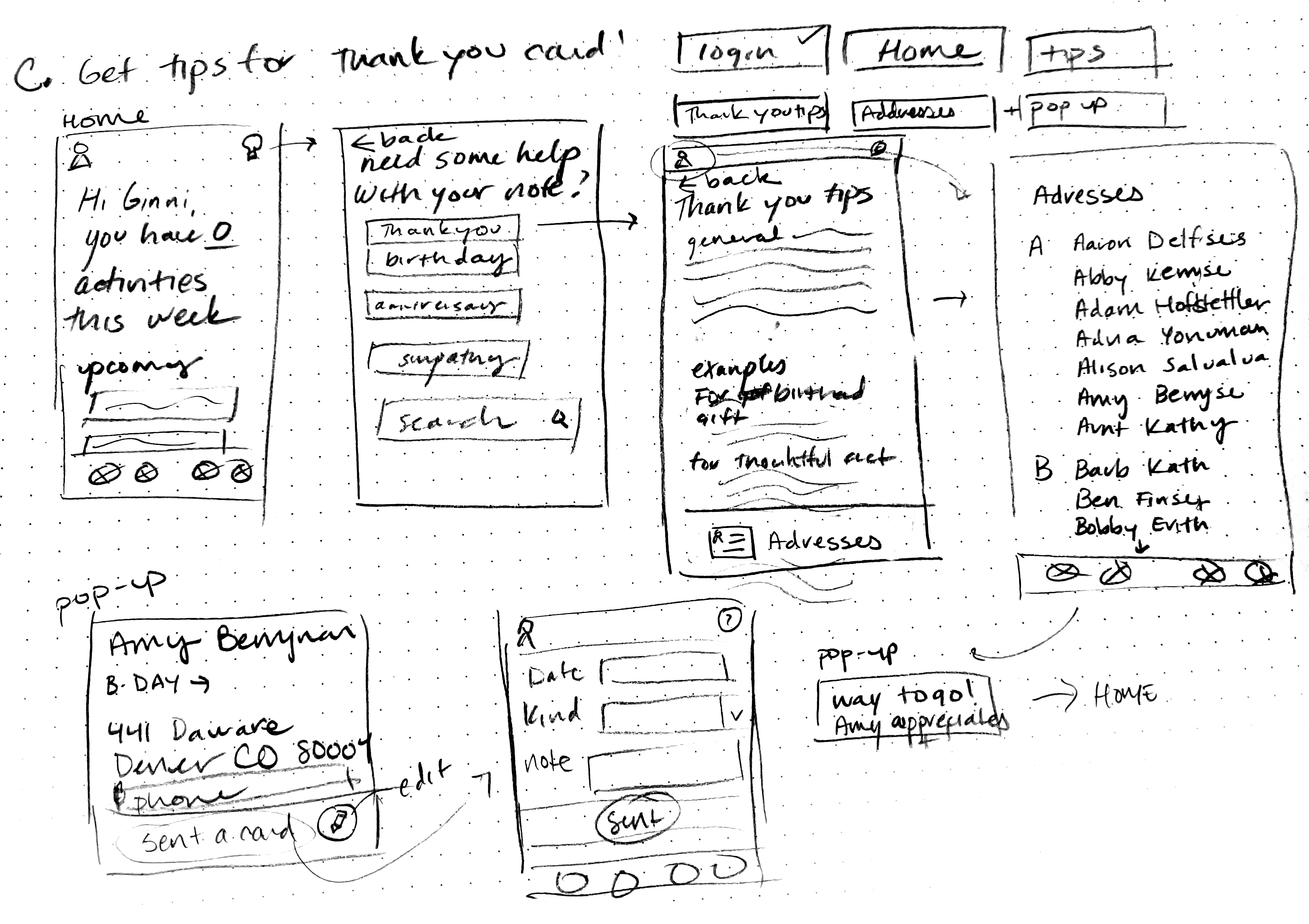 Low Fidelity Wireframes
I started working in Figma to turn my sketches into low fidelity wireframes. This helped me figure out how much information actually fits on each screen and where to put navigation. It also helped me think through how you might get from one page to another.
Mission/Vision
Everyone appreciates getting a handwritten card. People don't send them because they forget, or don't have the right things in hand. We want to change that! We want to help people maintain relationships and appreciate each other.
Brand Attributes
Fun, celebratory, thoughtful, empathetic, encouraging.
Brand Personality
CardWorthy is making it easy and fun to keep you connected and be a thoughtful friend.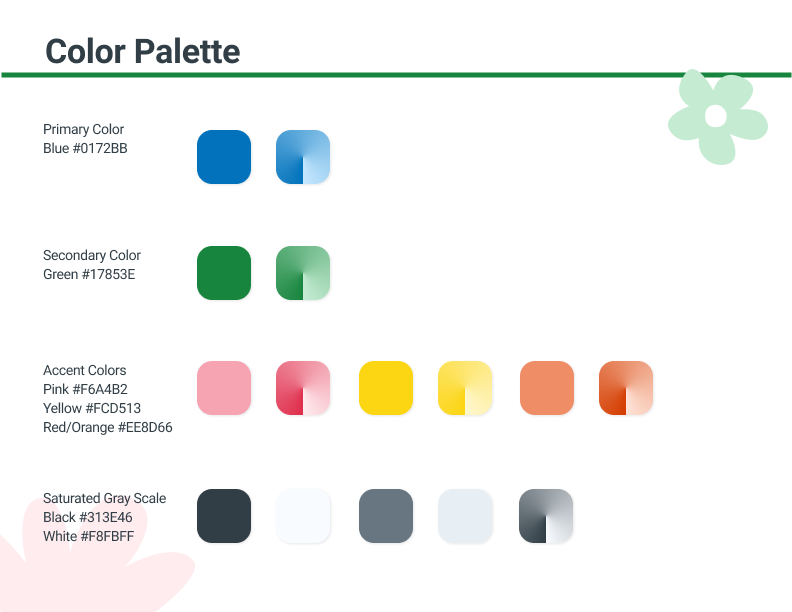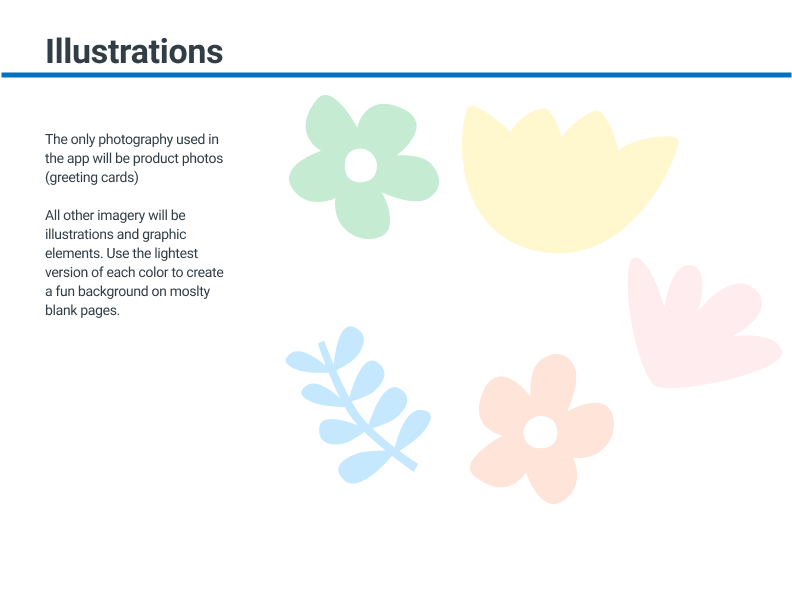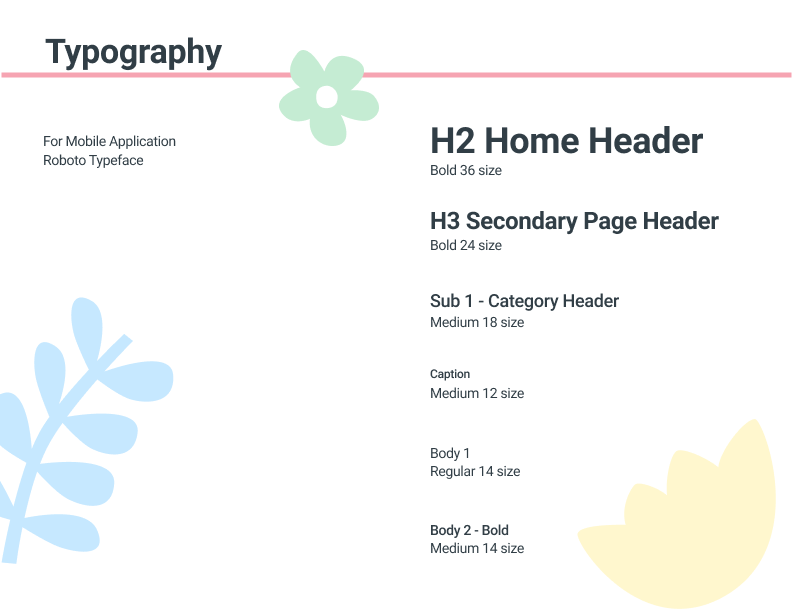 High Fidelity Wireframes
The main goal in the design process was to make an easy to use app for users to order and send greeting cards. I made a few changes as I was designing to improve usability.
Usability tests
I was ready to test the app and conduct usability testing. I wanted to evaluate if there were any pain points while completing the tasks and get feedback on the design. I conducted 5 moderated usability tests. 3 of my participants had been part of my user interviews.
Usability Testing objectives
I want to test out my red route tasks to uncover any usability problems.

I want to assess initial impressions of home, calendar, shop and tips main screens
Tasks
Purchase a birthday card

Find and complete the tasks for the week

Get tips on what to write in a Thank You card
Testing Results
I gained great feedback from my 5 participants. Overall, users found CardWorthy fairly easy to use and understand. After reviewing my notes, I found some key pain points to address and found a few minor changes to make to the app. The testing did allow me to identify a few problems to address.
Quotes
"I love how encouraging this app is, it makes me want to send more cards to my friends!"
"I like how it's easy to find what I want and gives me little tips along the way."
"I never would have thought to ask for help in what to write, but these are great tips."
Usability Issues
Most of the tasks were easy to complete, but there were a few things that were consistently confusing for all of the participants. I knew that making some small changes would make the app much easier to use.
Issue #1
Finding writing tips was unclear - not sure what the icon meant, and when asked to find tips, didn't know where to go
Summary: Users were not sure what the lightbulb icon meant, and when asked to find tips, didn't know where to go
Solution: Add a label to the lightbulb icon and add links to tips in a few more places throughout the app. (in the calendar tasks, and in the shop)
Issue #2
"Sent!" button in the task list was confusing.
Summary: Users were not sure what it meant or how to use it. Do I click it when I've completed the task, or does it mean that I've already completed the task.
Solution: Change the button to say Completed and gray out the task once it's completed.
Issue #3
Not clear that the user has a card at home that they've already purchased for upcoming task
Summary: Users were unclear on how the app works - that when it's prompting them to mail a card, it means they already own a card to send to that person
Solution: I think once they have placed an order for cards, it will become clear, but I also added a picture of the card they are supposed to send to the task section.
Reflection
The experience of making an app from start to finish was challenging, a lot of work, and so fun! I learned that user interviews and testing are so important - and I enjoyed doing them way more than I thought I would. I have always loved problem solving in any way shape or form and so my favorite part of this project was figuring out the user flows and prototyping.
If I had more time I would spend some time designing the physical part of the process. How the cards would be mailed in an organized way and additional analog items to include that would help people in the card sending process - a card organizers and simple wall calendar.
I learned so much through this project and am excited to work on the next one!